By Melissa Snider // Photography by Katie Cooney
—
Becoming a mom requires a growth mindset … quite literally. If you're like a lot of pregnant women who love to be active outside, you may also find yourself frustrated by ill-fitting gear that holds you back from your normal pursuits. This challenge inspired Tahoe-based freelance writer, Megan Michelson, to find a solution for a still-growing group of mamas-to-be who ski and want to continue doing so throughout their pregnancies.
Birth of a Sisterhood
Tahoe, CA (circa 2014)
When a friend of Michelson's struggled to find ski pants that fit comfortably during pregnancy, Michelson had an idea. She asked her husband, Dan Abrams, co-founder of the outdoor gear company Flylow, to offer up a pair of their classic men's Baker Bibs. The pants fit, and her friend was able to ski more comfortably that season.
"After that, it naturally evolved into someone else being in the same boat," says Michelson. "It started taking this 'sisterhood of the traveling pants' kind of route."
Over the years, about three to four pairs of bibs have been pulled out of Flylow's inventory and worn by an expecting mountain mama. Michelson guesses that at least ten women have worn the donated outerwear pieces—some of them more than once.
"If you bought a pair of pants that you wore for just three months, it would feel wasteful," says Michelson. "The fact that [the bibs] are getting a lot of use from different people is the nice part of it."
While Michelson sometimes requests the bibs be returned to her so she can pass them along, the recipients often send them to someone they know who will need them next. Some of the parents have passed along personalized notes, photos, and well-wishes to subsequent families. The bibs have made the rounds in several western mountain towns, including Tahoe, Jackson Hole, Portland, Bozeman, Park City, and Salt Lake City, and have been worn while skiing everything from groomers to powder in the backcountry.
Snapshots from the Journey …
Portland, Oregon (circa 2016)
Avid biker, runner, and skier, Kristen Minarik, received her pair of makeshift maternity bibs after reaching out to Megan while planning a backcountry trip to British Columbia. Six-and-a-half months pregnant with her second daughter, she realized she didn't have ski pants that fit.
"It felt so empowering to be in that state of pregnancy but to also have the gear [to provide] an aspect of normal," says Minarik.
She remembers that seven-day hut trip as "an incredible experience—way out there and very pregnant—with a bunch of friends skinning and skiing full days in lovely weather and safe conditions." 
"Don't be afraid! You can trust your body and know your limits."

– Kristen Minarik
When Minarik heard from Michelson that another mom was due for the bibs, she sent them with a note encouraging the next recipient to continue the adventure. While Minarik acknowledges the accommodations that need to be made when exercising during pregnancy, she believes it's important for moms to still get out there.
"You get a confidence boost knowing you can stay active," she says. "And you carry that over into motherhood. You can still get out and do the things you love, it just morphs and changes in the different stages between pregnancy and motherhood."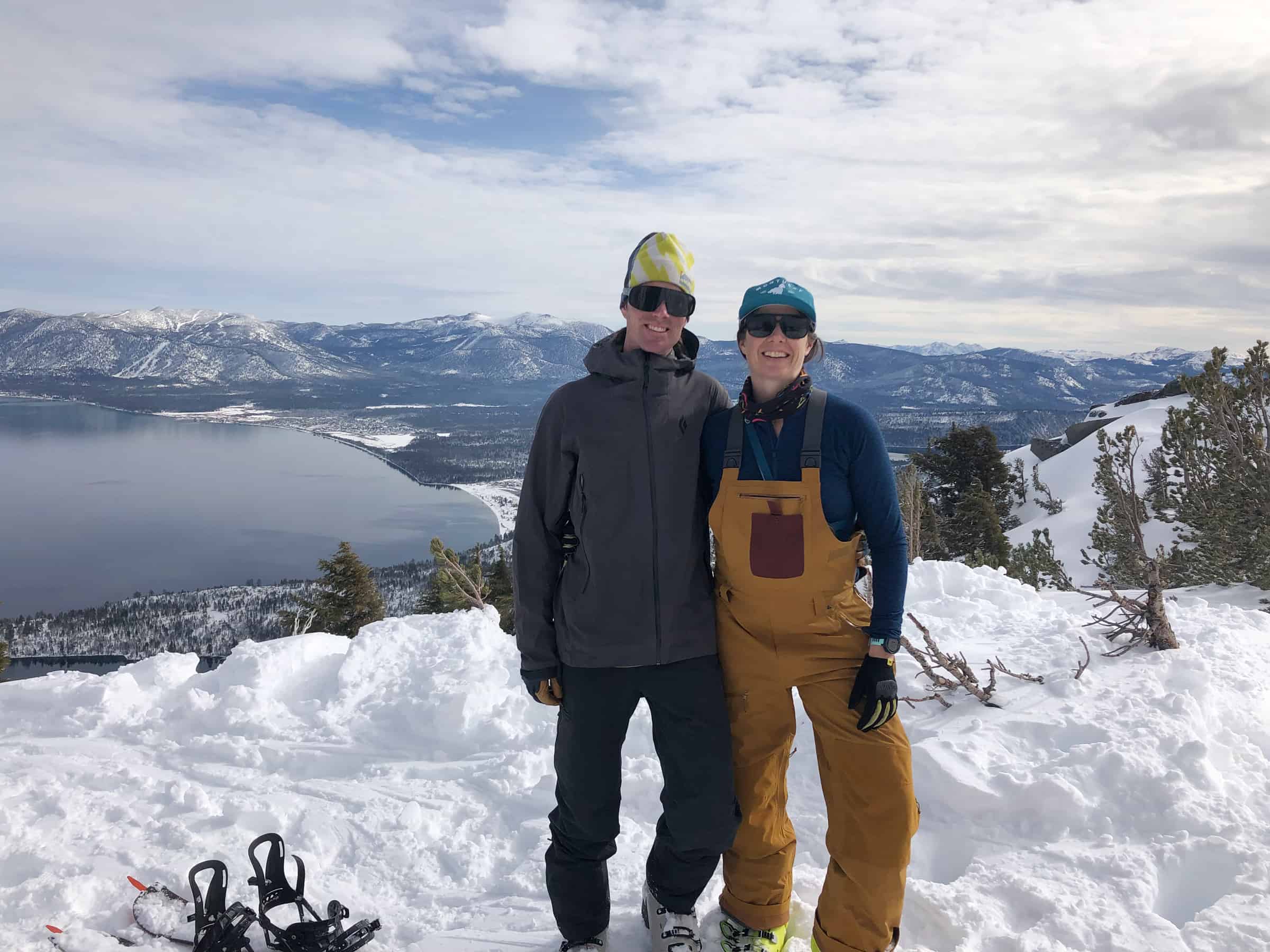 Tahoe, California (circa 2017 and 2019)
Former competitive, big mountain freeskier and coach, Allie Donovan, wore a different pair of Flylow bibs during both of her pregnancies. Reflecting on her experiences, Donovan feels that exercising at elevation while pregnant helped her get back to her activities more easily postpartum.
Her first pair of bibs accommodated her well. "They had a zipper on either side, so as I got bigger, it was just a little adjustment down," she explains.
Her second pair only had one side zipper, but still allowed her the room she needed to ski more comfortably. "Plain and simple," she says, "there wasn't anything [restricting] my belly, and it felt good." 
"Just get out there; you're going to be okay."

– Allie Donovan
Donovan sent her first pair of bibs to Emily Wolfe in Montana with a note; her second pair was sent to another mountain-based mom in need, with a note and a photo from her husband. Sharing in this sisterhood validated Donovan's own experience of being a lifelong athlete who was unsure how pregnancy would affect her ability to be active.
"My first time being pregnant was scary," says Donovan. "The fact that the bibs have traveled around to other athletic women, and they were out there enjoying themselves, too—I just held that with me."
Bozeman, Montana (circa 2019)
Emily Wolfe, a journalist and business consultant who loves to ski and climb, broke her leg in a bouldering accident during her first pregnancy. She was unsure whether she'd ever ski again. But once the hardware was removed from her leg, Wolfe felt ready to buckle on her ski boots again—this time, pregnant with her second child.
She recounts her experience after receiving the bibs from Donovan: "I felt like I was skiing with all of these other people. When everyone is telling you not to go skiing, it's like, 'You know what? We're all going to do what we need to do for ourselves and for our babies.' The pants represented that connection." 
"Stay away from crowded trails and go powder skiing."

– Emily Wolfe
Throughout her pregnancy, Wolfe skied often at Bridger Bowl Ski Area and Big Sky Resort, where she worked as a freelancer writing blog entries. This job often entailed skiing off the tram and all over the mountain, conducting interviews.
"It felt so amazing to be doing my thing," says Wolfe. "I didn't feel like I was a pregnant lady. I was just myself—a skier."
Wolfe encourages other expecting moms to do what makes them feel good. "The sports we do are dangerous," she says. "It's a risk you're taking. For me, it's also just who I am."
Victor, Idaho (circa 2021)
Kate Hull, owner of Powder Mountain Press and a first-time mom, loves to cross-country ski with her husband and dogs, taking exploratory off-trail trips throughout the winter. She was about 20 weeks into her pregnancy last winter when she started wearing the hand-me-down Flylow bibs.
"It was this really cool moment of feeling connected to other moms in the region," she says. "And to also be outside with my partner, getting to explore and do the things I love, while comfortable. That's a really tricky thing to do when you're pregnant."
Hull, especially, appreciated having dedicated time together with her husband, preparing for their future as parents. "I had no idea how important it would be for me to stay active and be outside. Cross-country skiing, really, was the key to feeling good and grounded," she says.
Hull looks forward to passing the bibs along to friends when the time comes. For her, it's "a fun way to connect with someone else who is just starting their own chapter."
"Listen to your body and do what feels good, but let yourself keep doing what you love!"

– Kate Hull
It's these personal connections that fill Michelson's cup, as the evolution of the traveling ski pants continues …
"Being pregnant can feel a little bit isolating and scary," she says. "Having this box arrive, not only with a piece of clothing that will enable you to get outside and enjoy the mountains, but also with a handwritten note or photo letting you know that you're not alone in this journey—that was the nicest part."
Michelson says she notices an increased representation of pregnant female athletes participating in their sports. To her, this proves that being active during pregnancy is the key to your overall well-being.
"I think we're all understanding that our mental health is as important as our physical health," says Michelson. "If getting out there gives you peace and happiness, then there are ways you can do it safely."